The Day Of The Show
September 1 2018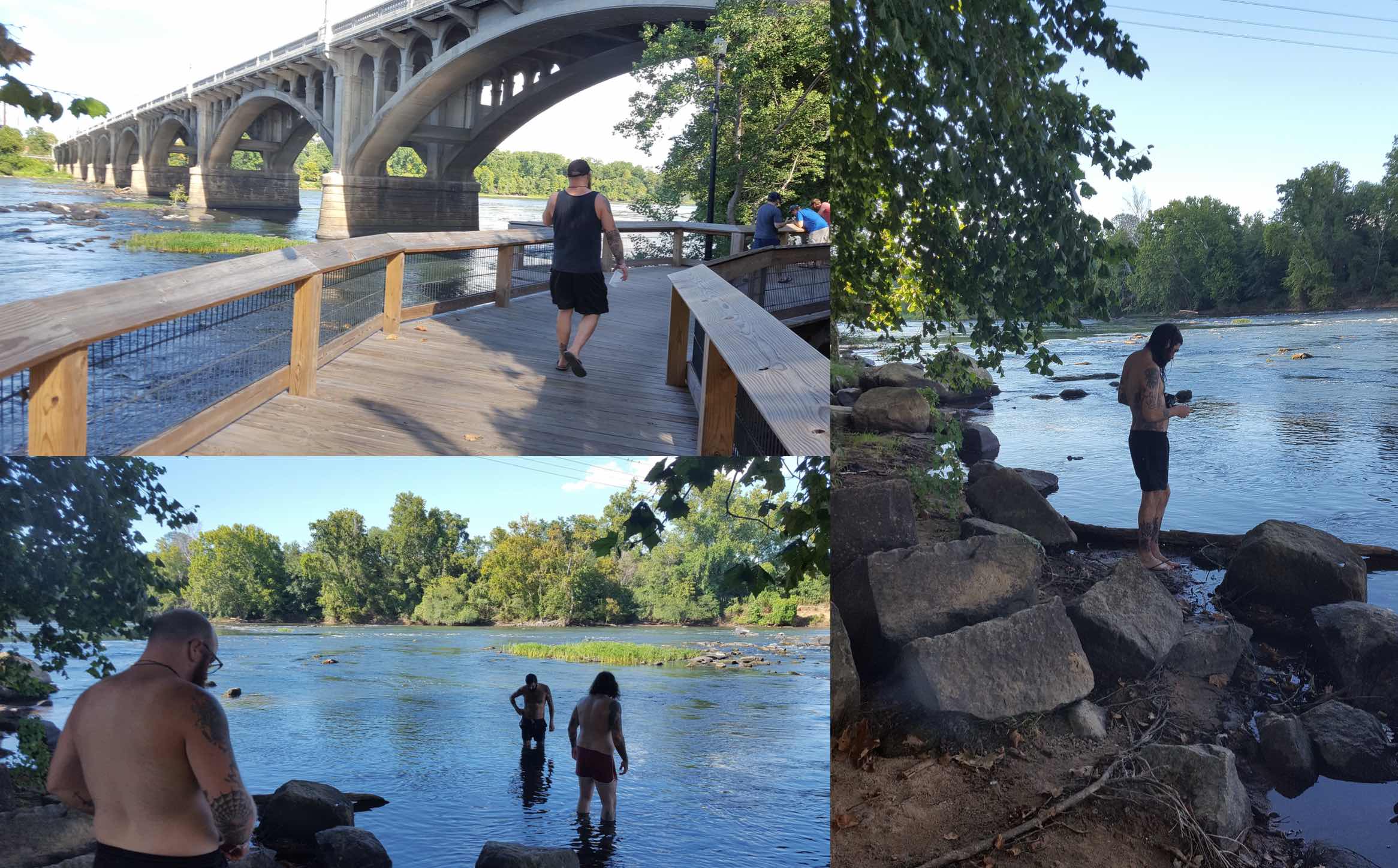 We arrived in West Columbia, South Carolina, in late afternoon and decided to go for a little swim under the Gervais St Bridge in the Congaree River. After all the heat absorbed by our bodies, this was more than pure pleasure. Sadly, tonight is our last show before going back north in our sweet cold country. The venue at the New Brookland Tavern is really cool, and since it is the last show, there's that special energy flowing in the air. Let's rock!
Wilmington
August 31 2018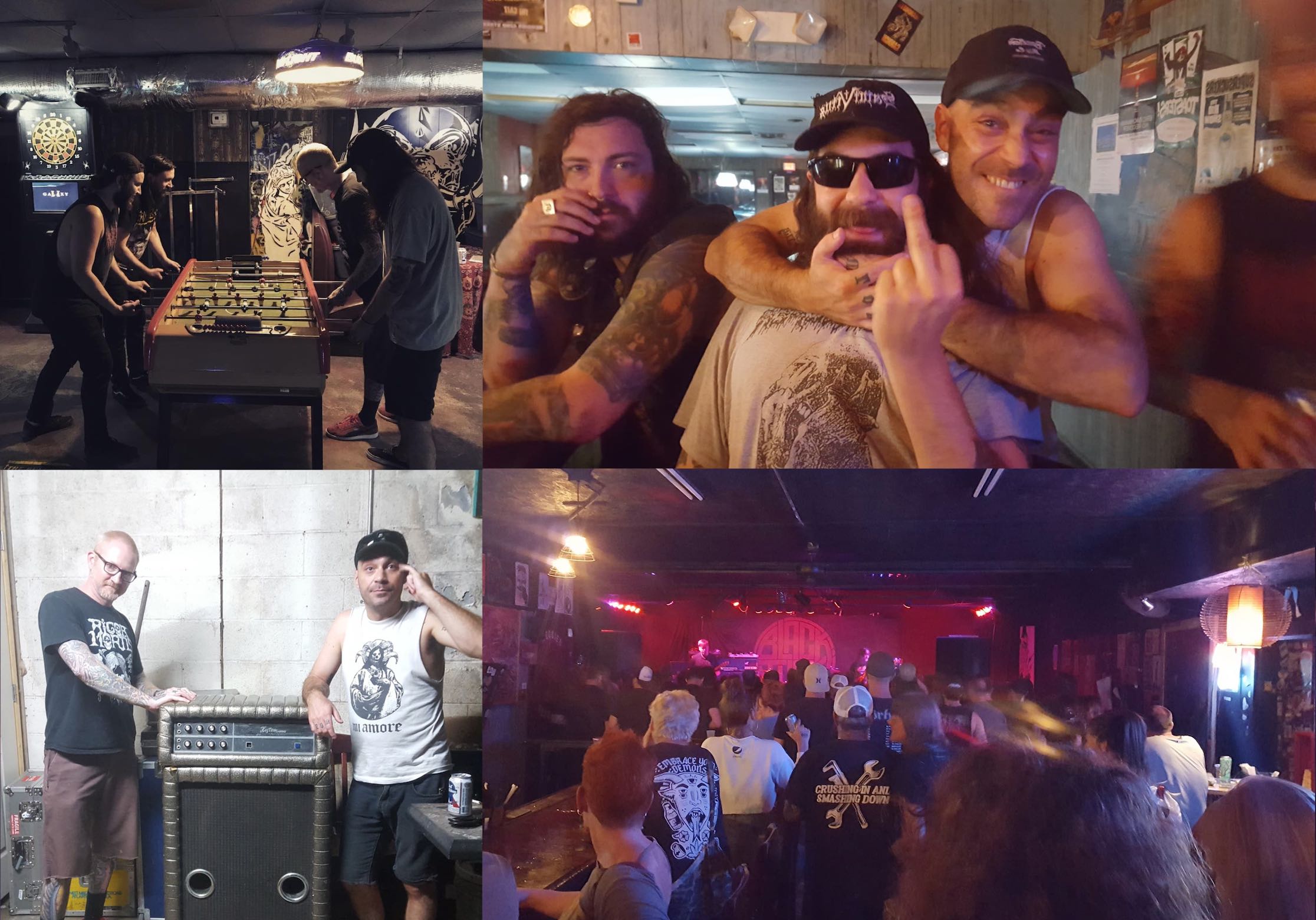 Still hot. Like melting hot. The Reggies 42nd street was on fire yesterday, with people all over head banging to the heavy riffs of all three bands. We played baby-foot and hang out in the warehouse where we found an old school funky looking Kustom Amp. Burritos at Flaming Amy's Burrito Barn we straight from heaven.
South
August 30 2018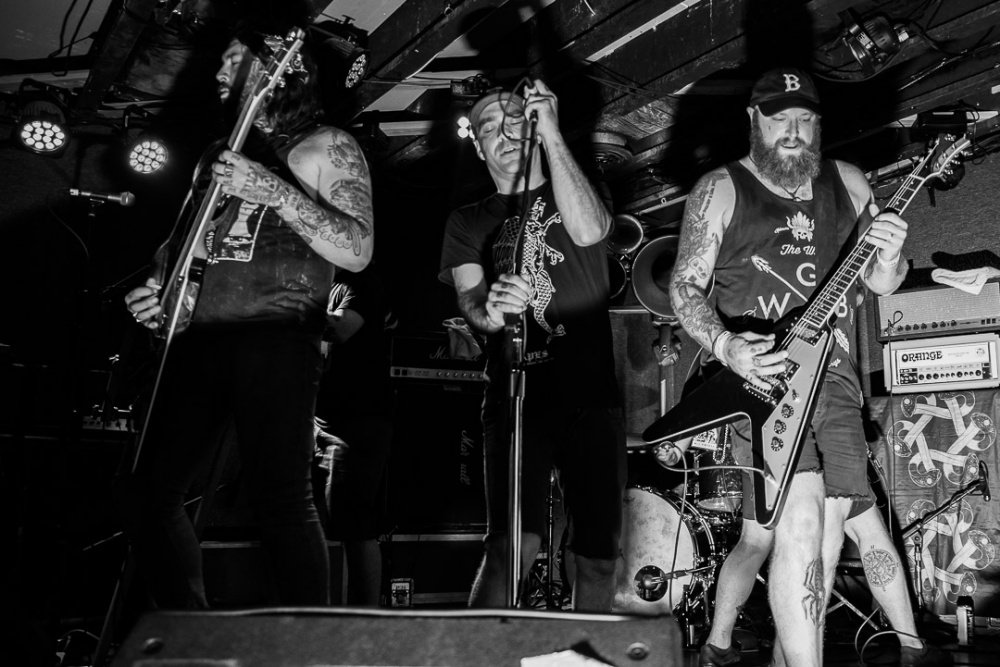 Going south is quite an experience for us. Guns, cockroaches, rats, humidity, palm trees, and redneck bars. The Riffhouse was a small venue, and unfortunately, no promotion has been done before the show. We played for each other, and smoked cigarettes inside while watching sports on the giant TVs.
Washington
August 29 2018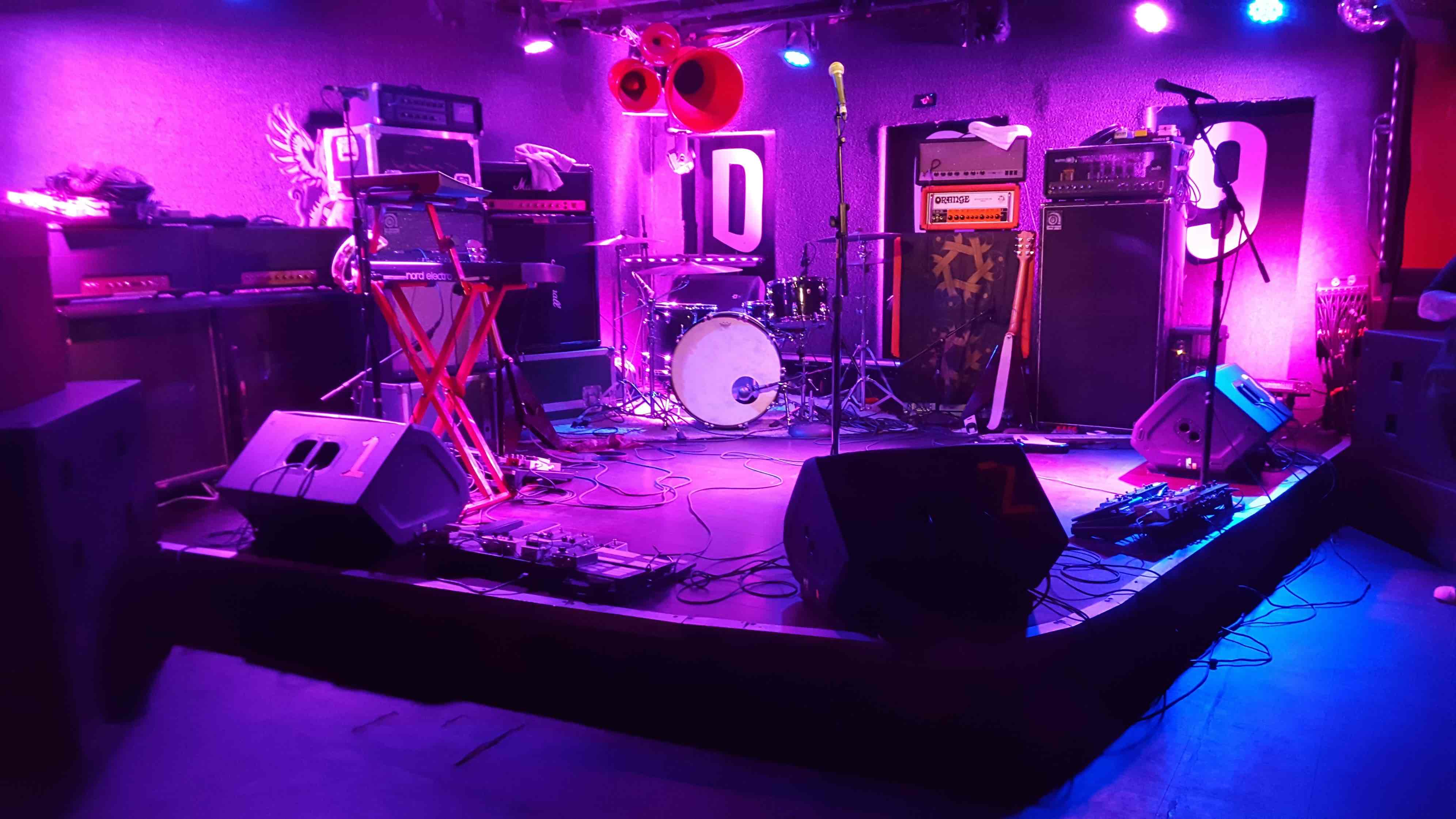 The DC9 venue is an hybrid between a bar, a rooftop, a restaurant and a stage. While we were playing the set, the power of the entire block went down. However, even with the power issue, the crowd in Washington was so nice. We sold a bunch of records, and had a tons of good reviews. We drove out of the city to sleep in a luxury KOA on our way to Chesapeake.
Kung-Fu Necktie
August 28 2018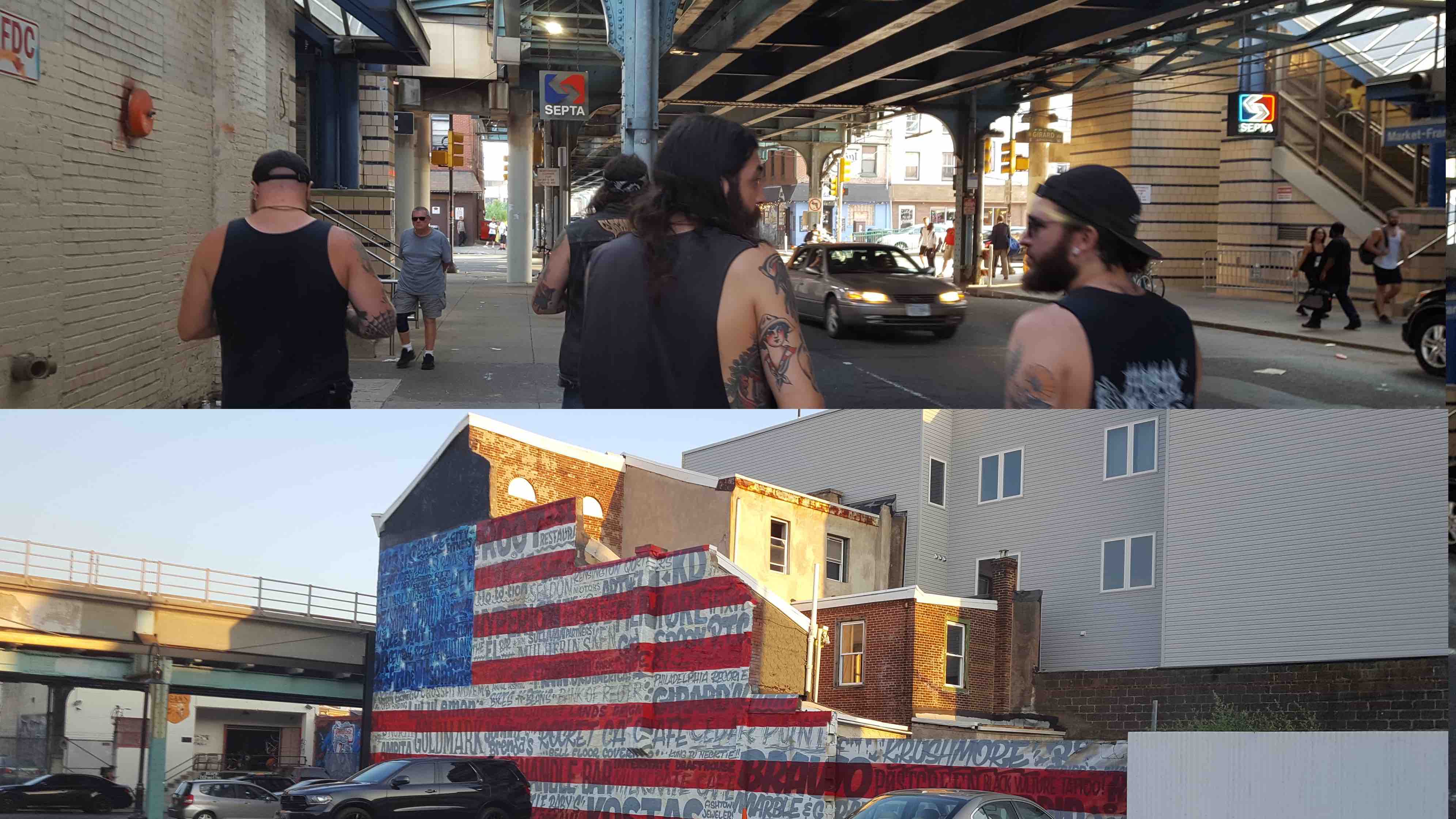 People at the Kung Fu Necktie were packed like sardines. The show was amazing, a lot of friends came to see us play. The Philly cheese steaks from Joe's Steaks were delicious, and then we ordered beers to go and had a party in the camping lot.
Philly
August 28 2018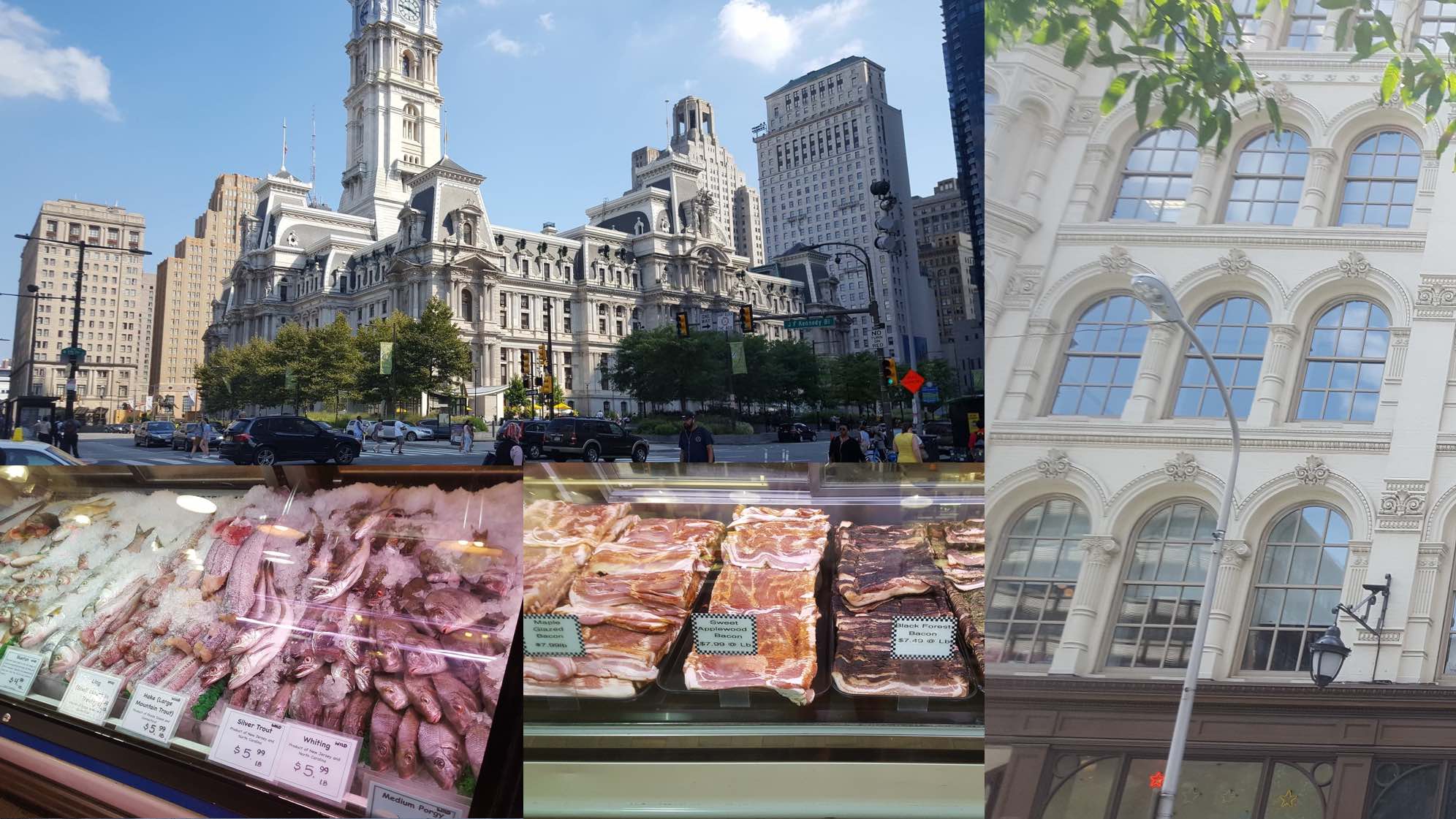 We found an RV parking ground near downtown Philadelphia. Even with the fully asphalted layout and the electrical wires all around the lot, our urban camping allowed us to visit Downtown Philly in the evening. We stopped at the Reading Terminal Market to get amazing food. Some friends from Heavy Temple invited us to their band house and gave us a live performance. Slick!
A Day Off in New-York
August 27 2018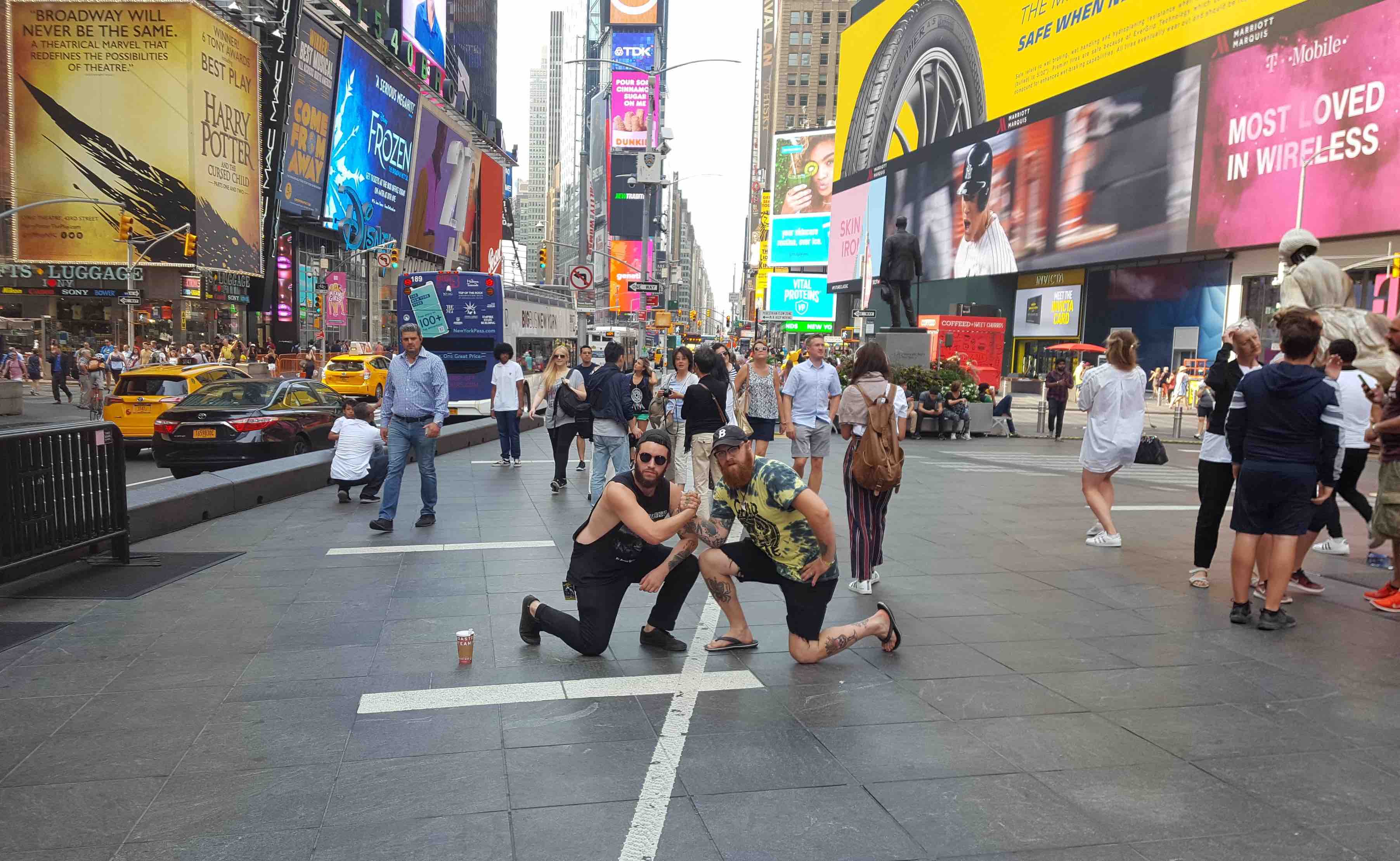 We went downtown New York today to visit the Big Apple during our last day off. We parked the rig in Jersey and took the ferry to reach Manhattan. We did yoga in Central Park and had a green tea in Times Square (or maybe not). We are now going back on the road to get to Philly for dinner.
Sunday Night in Brooklyn
August 27 2018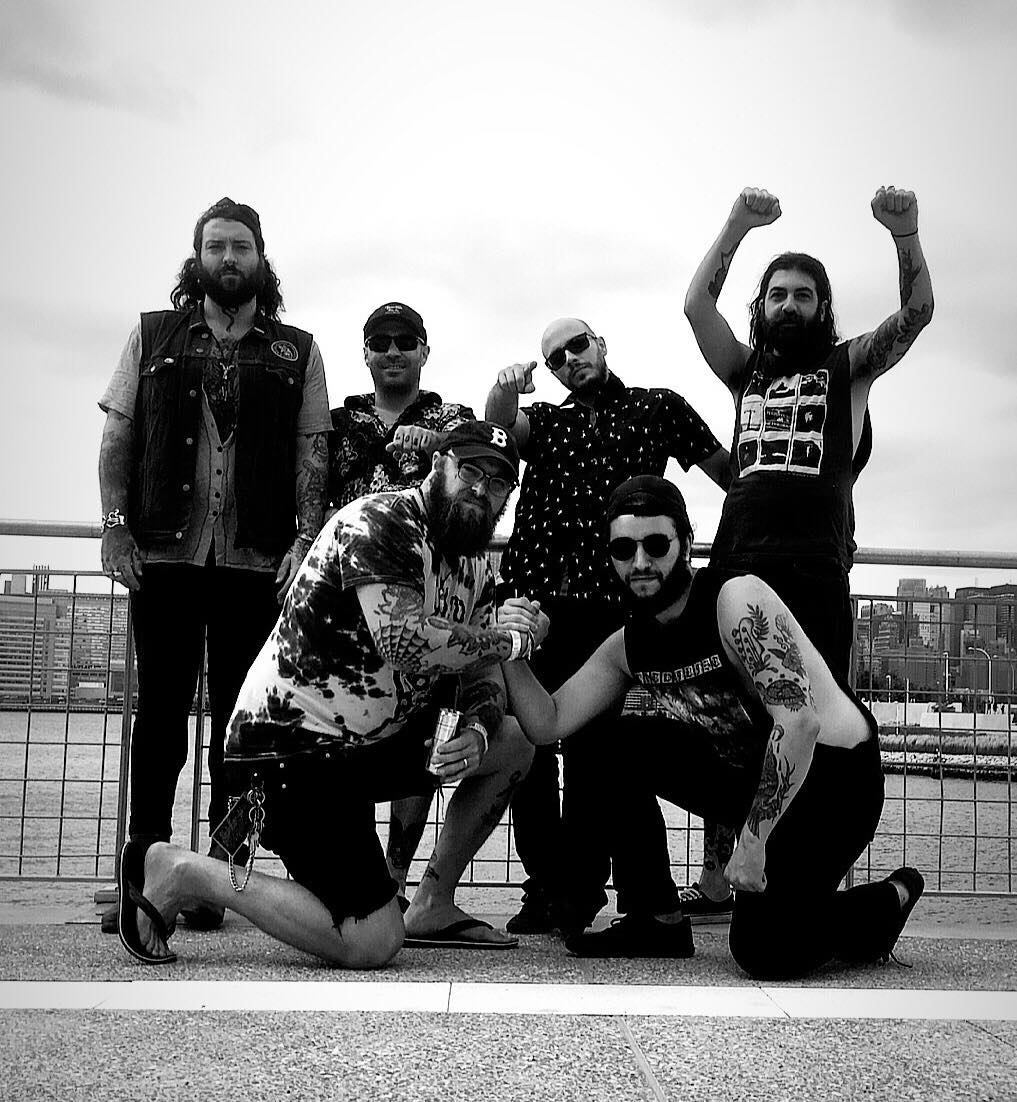 As expected, the path to the Saint-Vitus was a bit harder since we had to go through the New York metropolitan area with our rig. After avoiding tolls, tunnels and hobos, we discovered the mythic venue downtown Brooklyn. The show was sold out and fully packed. We ended up after the show in the green room giving French lessons to Casey and Mark.
"Donnez-moi une cigarette, merde."
RPM Fest 2018
August 26 2018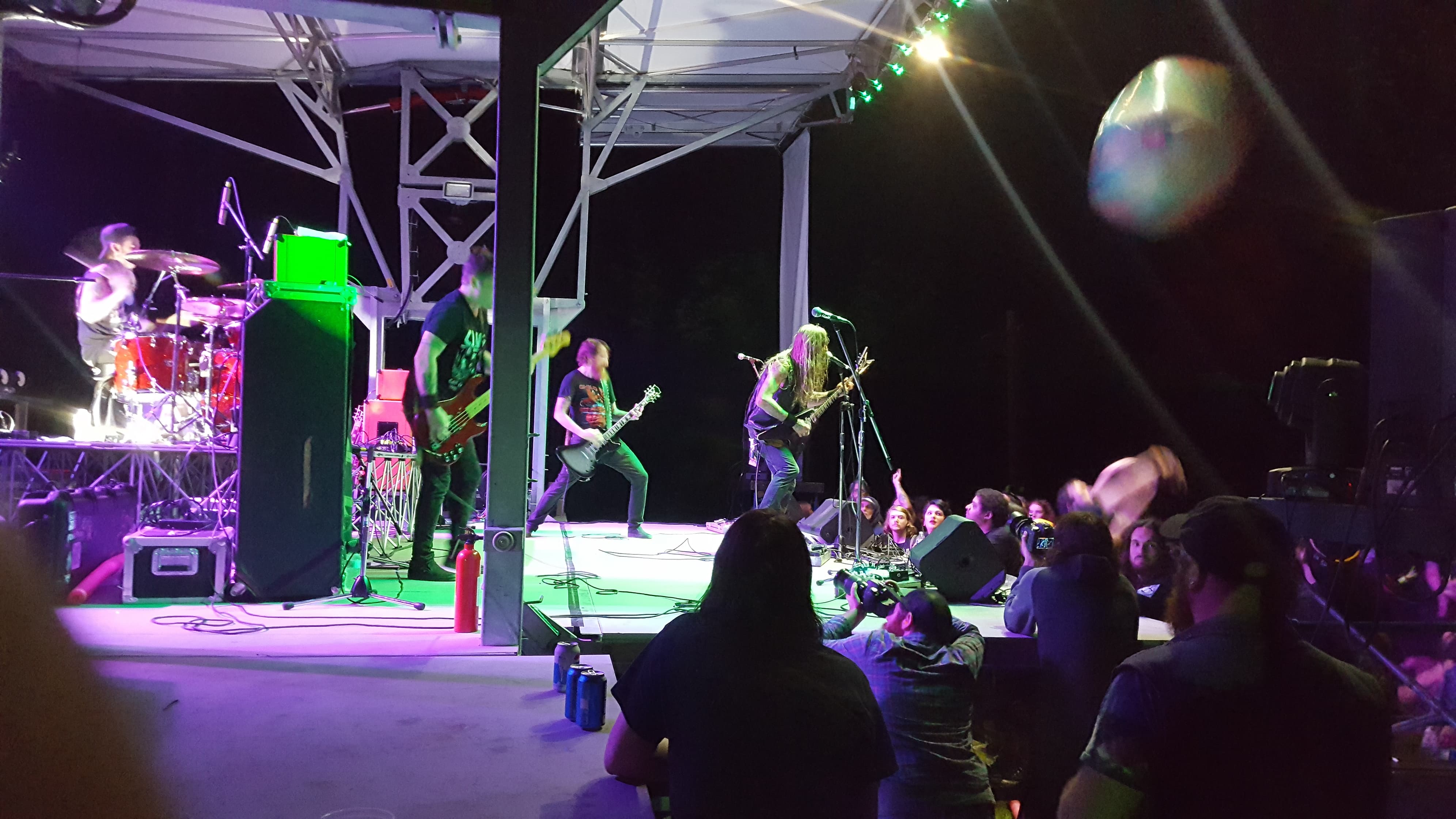 The RPM Fest was definitely one of our best shows so far. The whole fest is located on a shooting range in Montague. Three main stages are shared between more than 50 bands. We played on the largest stage in front of a cool crowd. We even saw a unicorn dancing along with other campers.
Live Pictures
August 26 2018
We found some cool photos of us playing in Montreal!
3rd Border Crossing
August 25 2018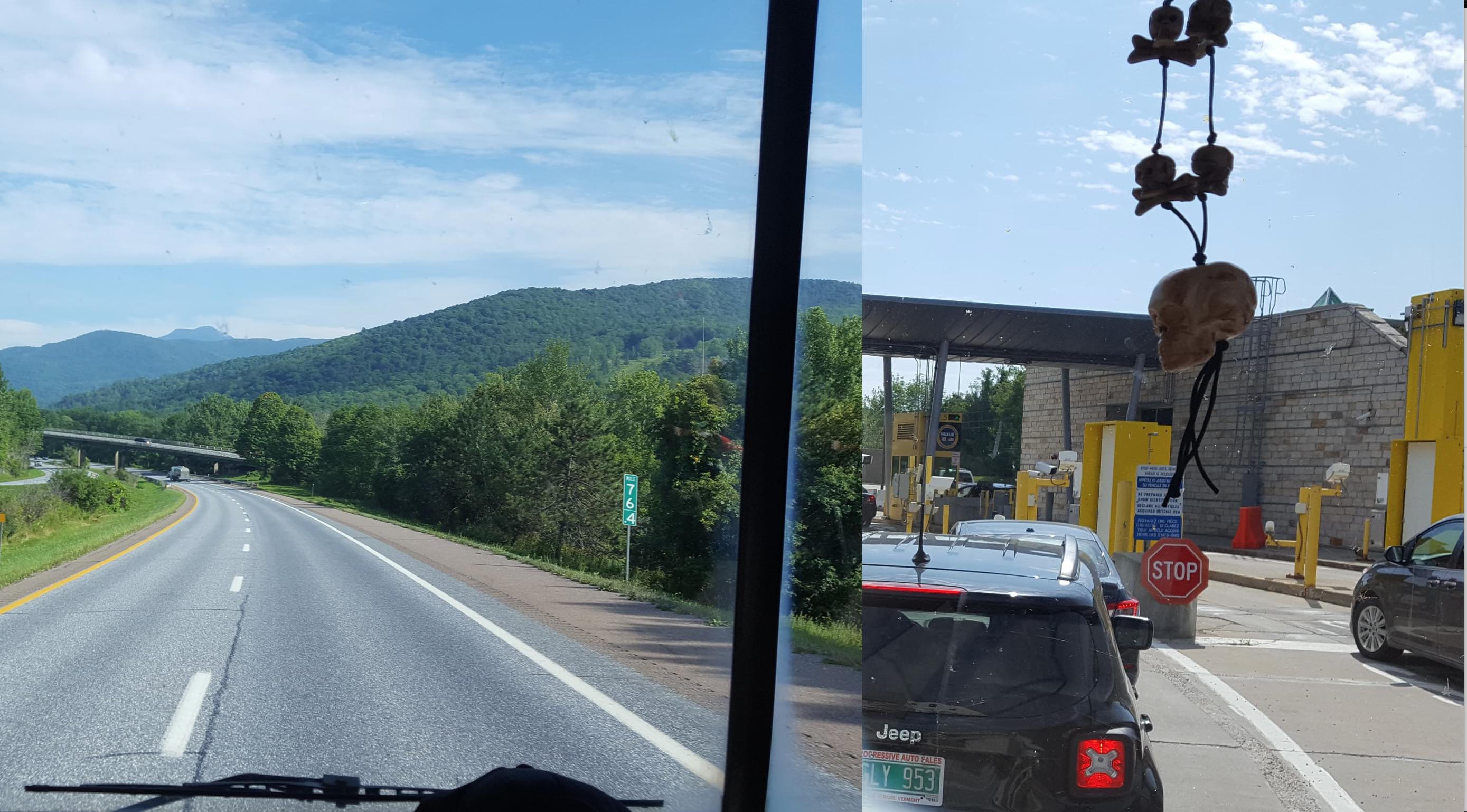 The Canadian part of the tour is now over, we are going south again for the last 8 shows. The border crossing was crowded and it took almost 2 hours to get through. One more time, we passed the border without any problems. The road in Vermont is spectacular, the breeze is filling the van with Mother Nature's best aromas.
Les Foufounes Électriques
August 25 2018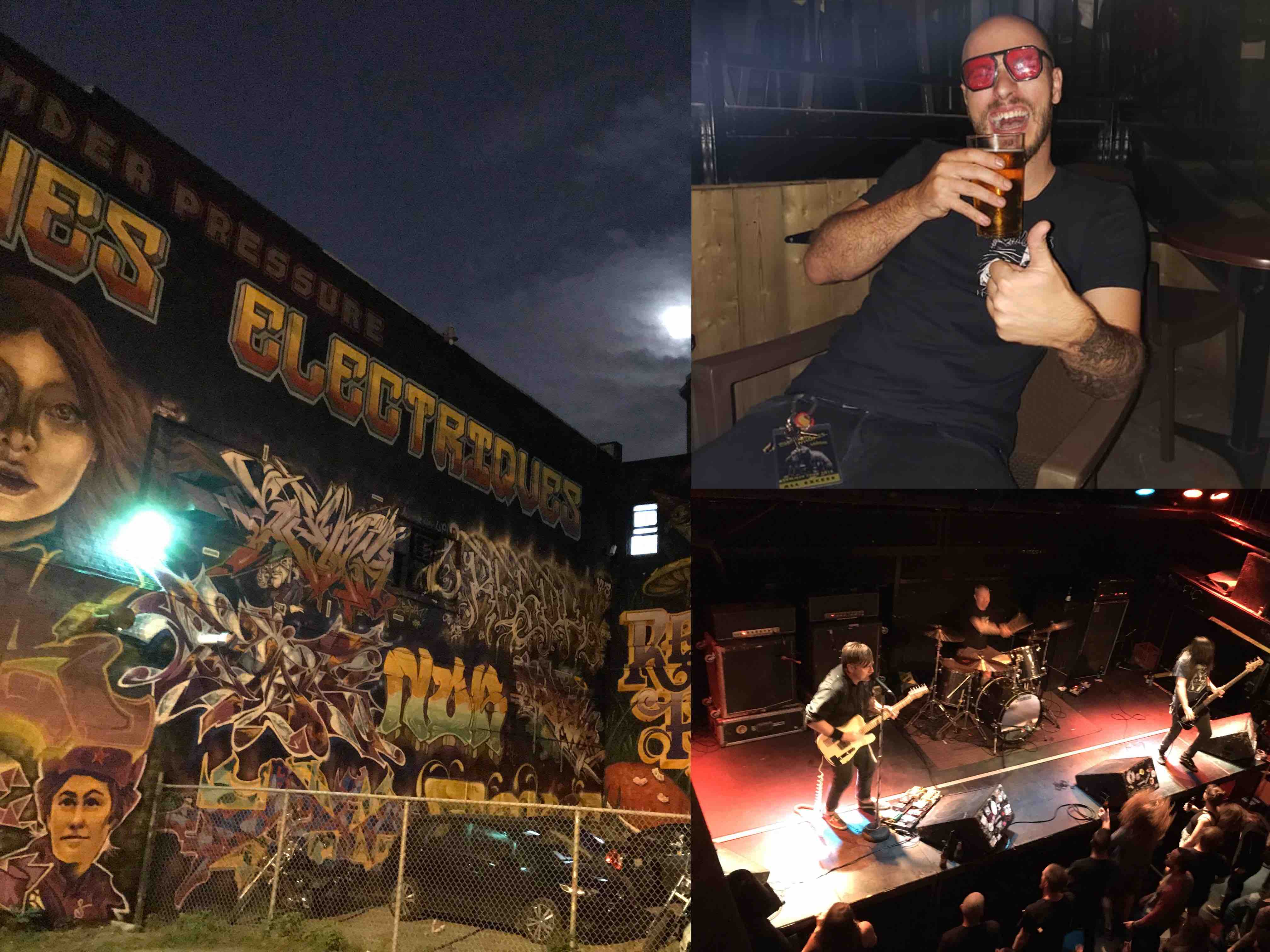 Horny Montreal, we love you. The show was intense at Les Foufounes Électriques, we celebrated Whores' drummer birthday and went out for a wild night in the city. We saw good friends, had good drinks, and played rock and roll like if there was no tomorrow.
We stopped at Mandragore studio during the day to meet with old pals. This place is killing it, amazing people, gear and ambiance. Keep up the good work, boys!